How to register a lot number and an expiration date for a product ?
To enter a product's lot number and expiration date, click on CATALOG, then PRODUCT LIST
Select the product whose lot number you want to enter (here I have chosen the rabies vaccine, Nobivac Rabies)

Once in Product List, enter a lot number and an expiry date for your product.
To do this, click on MANAGE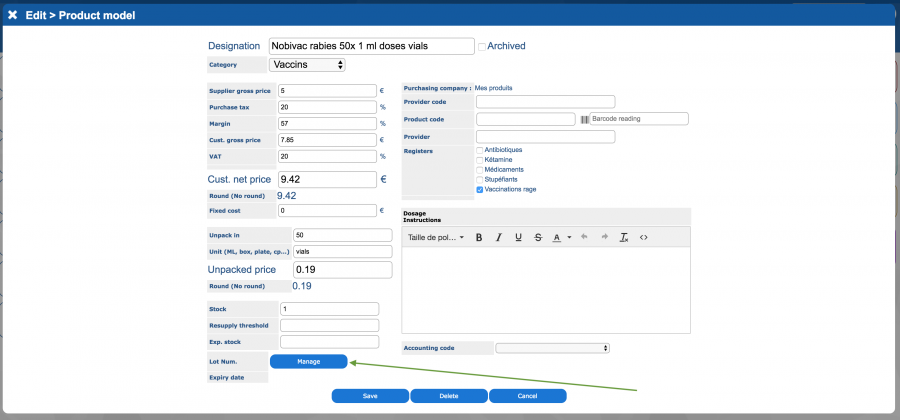 Then on NEW

Now, you have two possibilities :
either you place your cursor in the « Barcode reading area » and scan the product's QR code using your laser scanner
or you enter the lot number and the expiry date manually in the designated areas

Click on SAVE
Then close the next page

Now, you can enter all the necessary information about the product that you want to register :
With regard to the example below of the rabies vaccine « Nobivac Rabies 50 x 1-mL », I have specified how I want to manage my stocks : I want my product to be unpacked in 50 vials; my actual stock level is 70 vials; I want the software to create a new order when only 30 vials are left in stock; I enter my ideal stock (in this example, 50 vials) in « expected stock ».
In the green box on the right, in Registers, I can enter that I want each use of this product to be registered in the Rabies Vaccination Register.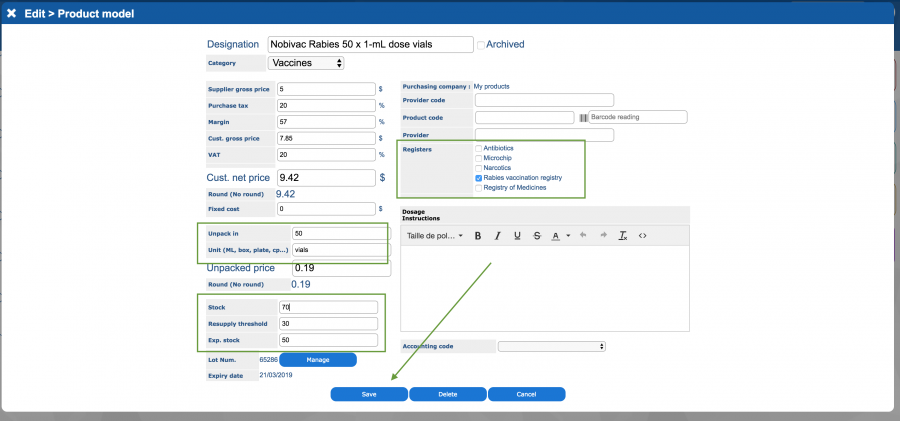 After entering this information, click on SAVE
After the rabies vaccine has been administered, click on the red bar code, and the previously registered lot number will appear. Check that it corresponds to the injected vaccine's lot number and if so, click on SAVE